Program
HOME > Program > KIMA Awards
| KIMA Awards
Name
KIMA Awards 2023 - 9th Korea Marine leisure industry Grand prize
Purpose
▶ Excellent case development and distribution by awarding companies and individuals making extensive contributions
to the development of the marine leisure industry.
▶ Fundamental Expansion and Public Awareness Improvement on the Marine Expansion of fundamentals and
improvement of public awareness about marine leisure.
"KIMA Awards", with its third anniversary this year, is an event which recognizes services made by people who have been working for 5 years or longer in the marine leisure sector and who have made significant contributions to the cultural and industrial development of Korea's marine leisure. The KIMA Awards are expected to become a basis for reinforcement and development of international cultural competitiveness and for the future operation of Korea's maritime leisure.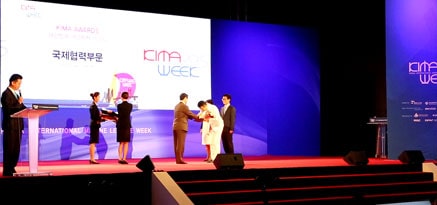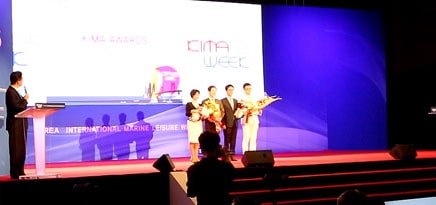 | Events Information
Ⅰ. Award categories: 2 Categories
Categories
Revitalization of Marine Leisure
Development of the Marina Industry
Information
Creating a Marine Leisure Culture, Talent training, Tourism product development
Product development, R&D, export performance, Published papers
Award
Ministry of Maritime Affairs and Fisheries Minister's Citation
Ⅱ. Submission and schedule guide
| | | |
| --- | --- | --- |
| Schedule | Period | Details |
| Open recruitment | Jun~Aug, 2023 | |
| Document screening | Aug. 7 | |
| Final screening | Aug. 8 | |
| Announce the winners | Aug. 9 (Awards Ceremony Aug. 18) | a plaque, award, prize delivery |
Ⅲ. Evaluation criteria
Division
Evaluation items
Scoring
Evaluations in each category
Total
100
Standard evaluation
(50)
Operational achievement
50
▶Revitalization of Marine Leisure : Development of Marine Tourism Products and Revitalization, Performance of national and local organization projects, Talent training
▶Development of the Marina Industry : Product development, R&D, export performance, International Cooperation and Interchange, Overseas PR and Marketing, related awards, Published papers
Objective evaluation
(50)
Degree of contribution
50
Description of contribution to the development of Korea's marine leisure industry